Cafec konusni filter kafu T-92
Sale price Price 2,000.00 RSD Regular price Unit price / per
Tax included.
Filter papir od rafinisane pulpe (bela verzija): Zadržava originalni ukus kafe i pravi veoma elegantnu kafu koja se preliva. U OVIM PAPIRNIM FILTERIMA NIKAD SE NE KORISTI NIKAKVA KORIŠĆENA PULPA, BOJE ILI HEMIKALIJE. Potpuno biorazgradivo.
KVALITET: Svako pakovanje sadrži 100 najboljih filtera za kafu za jednokratnu upotrebu ikad napravljenih. Proizveden u Japanu od strane začetnika konusnog uređaja za kafu, Sanio Sangio je razvio savršenu količinu sitnih nabora - na OBE strane papira - koji proizvodi najčistiju kafu bez taloga - i omogućava vodi da prođe sporije, da bi iz svetlije pržene kafe izvukla što više arome usled dužeg kontakta vode i kafe.
UNIVERZALNI KONUSNI OBLIK: Dizajniran u kombinaciji sa našim sopstvenim porcelanskim konusima za kafu u obliku cveta, koje dolaze u 5 neverovatnih boja. Takođe odgovaraju svim konusnima za kafu u obliku V60 02: Hario, Chemex, itd. Ovaj filter stvara savršeni sloj mlevene kafe tako da se voda širi po celom talogu - što je ključ za stvaranje savršene šoljice kafe jako finog tela.
BEZ RIZIKA - GARANCIJA POVRATA NOVCA! Toliko smo uvereni da ćete videti veći kvalitet ovih dripper papira. Pažnja posvećena detaljima, koliko dobro prave ukus vaše kafe za prelivanje i baš onakav kakav se oseća u vašim rukama! Međutim, da biste garantovali iskustvo bez rizika i obezbedili bezbrižnost, ako imate bilo kakvih problema, možete lako da vratite svoj novac u roku od 7 dana! Bez pitanja.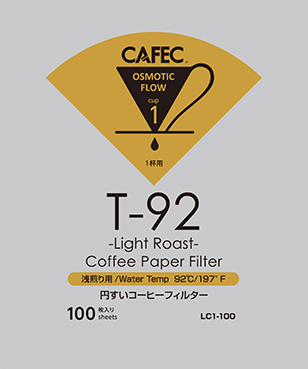 - Thickness-1: Thickness 0.15 mm
- Density: High
- One-Side Crepe (No crepe on inside and crepe on outside)
- Temperature: 92°C
There is no crepe inside paper, so the inside surface area is small. Coffee fine powders attach within this small area, so little water path is left then water is building up inside paper filter. By building up water, plenty of aroma comes out. Further more, thanks to the outside crepe, the coffee liquid came outside flows smoothly.
Because its paper density is high, almost all fine powder is removed perfectly. You can get a clean cup of coffee.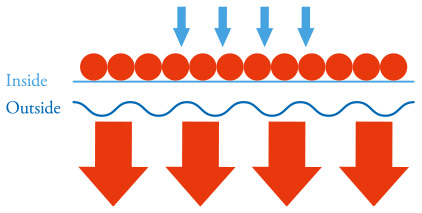 Paper-making
Wet Creping Method
The roller rotates faster than that of the Dryer drum. Thanks to the rotating speed difference (the difference is smaller than that when the dark roast paper is made), the wet paper gets loose at the doctor blade. The lower crepe is made by the speed difference but the paper with lower two-side crepe is dried on the drum, so the one-side crepe becomes little then made the paper with one-side low crepe.